Welcome to Issue 3 of the REFINE newsletter!
We're delighted to bring your our third newsletter which gives an update on what has been happening in REFINE over the past few months including the latest project research findings, publications, blogs, news and events.
REFINE is a H2020 EU-funded project that aims to improve the supply of sufficient and attractive financing sources for energy efficiency investments and mainstream refinancing instruments for future energy efficiency projects across Europe. Within this scope, it seeks to create new business opportunities for financial institutions by establishing well-structured refinancing schemes for Energy Efficiency Services (EES) practices.
REFINE partners have identified a large market potential for sustainable finance in the energy efficiency field that is just waiting for a smart way to be instrumentalized. In-depth research and market analysis carried out earlier within the project have shown the advantages brought by refinancing schemes. Over time, REFINE will cooperate with key stakeholders including financial institutions, EES providers, market facilitators and guarantee funds, using their knowledge and expertise to support anyone who is interested in growing within this business area.
We encourage you to share this newsletter with interested colleagues and friends, subscriptions can be made through our website.
For regular updates, follow the project on Twitter: @REFINE_Project & LinkedIn: REFINE Project
Kind regards,
The REFINE Team

REFINE is currently conducting a short survey for EES providers (ESCOs) to collect information about their (potential) interesting selling receivables from ongoing or future EES projects. Financial institutions have expressed their interest to learn more about the market potential related to the acquisition of receivables from ongoing and/or future EES projects across Europe. This approach may help EES providers to overcome financial bottlenecks and to gain leeway for the expansion of their business more easily.
If you are representing an EES provider or ESCO company, complete our survey, which will take you no longer than 5-10 minutes and have your say on Europe's financial market for energy investment:

Our website hosts a selection of publications by REFINE project partners which outline and define the core concepts and key findings of the project and its progress towards creating a robust financial market for energy efficiency projects in Europe.
Aimed towards energy efficiency service providers, financial institutions, guarantee funds and other market facilitators, check out the most recent project publication on contract stipulations and a practical template for rating the 'refinanceability' of EES projects below. A live bank of publications can be found on our website. Some topics include:
Our blogs give a snapshot overview of some of the project's most central findings and methodologies. A selection is outlined below, read on to find out how Europe can drive investment in energy efficiency projects forward and its importance for creating a more climate-neutral EU for all. Check out our latest entries below.

In the latest project research, the REFINE consortium designed a two-tier risk assessment system that can be applied specifically when a financing institution analyses the refinanceability of an EES project. The first document in the system provides a guide with explanatory context for the use of the rating system. In this, some of the following key findings were identified.
Potential Risks Related to the Refinancing of EES Projects:
In general, two layers of risks can be identified with respect to the refinancing of EES projects:
Technical risk generally remains with the EES provider
Financial risk remains with the refinancing institution
Additionally, the following risk elements were identified:
EES Provider Risk
Client Risk
EES Project Risks
Project Refinanceability Risk
A summary of the risk layers can be seen here:

The second document in the rating system is an elaborated excel template that is directly applicable for the evaluation of EES projects. It consists of the following elements:
Standard Default Risk Evaluation
EES Project Rating
Contractual Preparedness for Refinancing
Pilot Applications
The REFINE Project is currently conducting a number of pilot applications to implement the instruments and tools developed in the project in real-life energy efficiency services projects. Up to 42 pilot applications are foreseen ensuring a wide range of projects is included in the testing.
We have received a number of expressions from EES providers and financial institutions willing to test the developed tools and services, with a number of pilot applications still to be identified in each country.
For each partner country and project, the most suitable refinancing instrument concepts and tools will be selected for pilot applications
If your organisation would be interested in participating please contact: info@refineproject.eu
REFINE Training Modules
REFINE will be releasing a collection of training modules as part of our project knowledge centre in the coming weeks. The aim of the training sessions is to increase awareness about the positive impact of refinancing schemes on the financial feasibility of energy efficiency investment among ESCO providers and financial institutions, as well as amplifying the actual use of refinancing schemes in EES business practice.
The content will focus on EES providers covering the specifics of energy efficiency services and markets, as well as the benefits of refinancing instruments, tools and services with respect to implementation, involved parties, cost structure, risk coverage and legal and financial implications. Overall, these modules will provide a valuable introduction and overview of the project's core tools and methodologies which are open-source and adaptable for the user's context.
Each module will be guided and PDF versions will also be available in 9 EU project languages to download and follow along.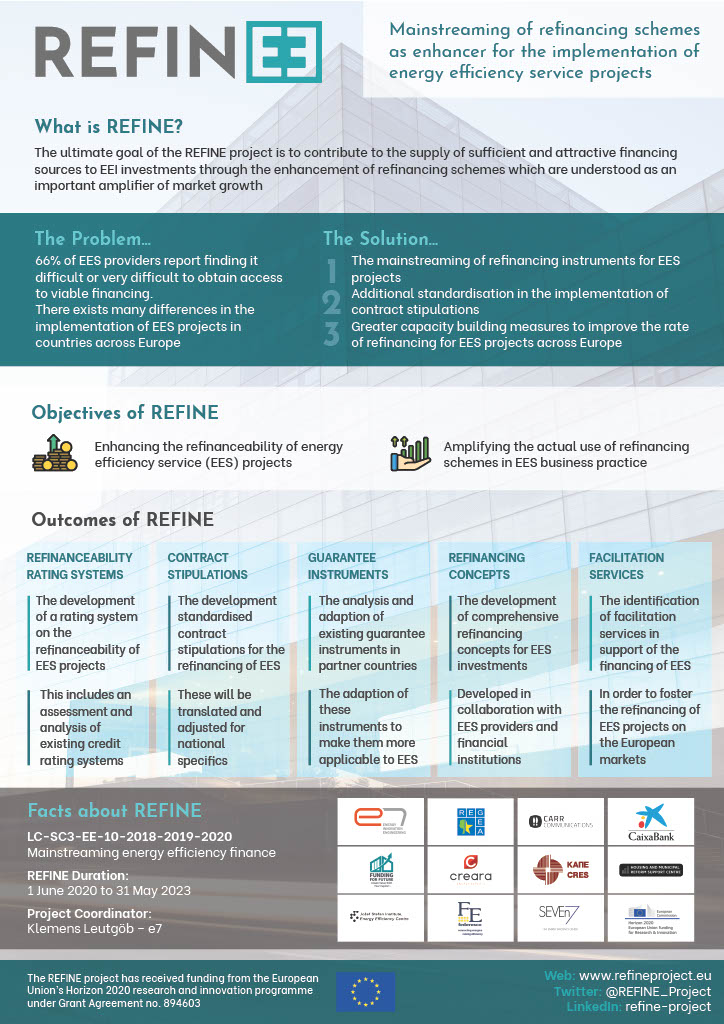 Want a rundown on what REFINE is all about? Download our project leaflet and poster from our 'About' section by clicking on the image below and share it with your colleagues too. If you want to find out more, drop us an email at 
info@refineproject.eu