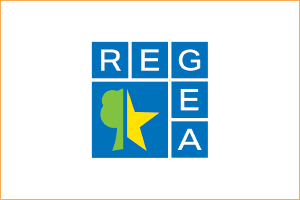 North West Croatia Regional Energy Agency (REGEA)
REGEA was established as a non-profit institution by Zagreb County, Karlovac County, Krapina-Zagorje County, and the City of Zagreb in 2008. The main objectives and the role of REGEA are to promote and encourage the regional sustainable development in the fields of energy and environmental protection through the implementation of energy efficiency measures and the utilization of renewable energy sources by working closely with the public and private sector. REGEA has extensive experience in developing and coordinating national and EU funded energy efficiency and renewable energy projects especially within the building and infrastructure sector. Public sector actors present the primary focus of the Agency's work, although the Agency works intensively with private investors on the preparation and development of renewable energy projects as well. One of REGEA's important areas of work includes the preparation of strategic and planning documents on a national level, but also for its founders (i.e. regional authorities) and other Croatian cities.
Scope of work in this field ranges from developing strategic documents (national/regional long term decarbonization strategies and SECAPs), assisting decision-makers with preparation and implementation of large-scale buildings and infrastructure renovation projects to promoting alternative financing models and dissemination of new technical and financial trends and instruments.
Another key area of work and expertise lays in the development and implementation of innovative financial models based on project/investment aggregation, which are applicable on the regional but also on the national level. REGEA is implementing the only ELENA funded project in Croatia (project Newlight and RePuBLEEc) which foresees the infrastructure reconstruction capital investment of at least 50 million EUR through ESCO schemes by using standardized documentation (inventory data collection and analysis, contract, and procurement documentation etc.)
Your company's role in the REFINE Project
As a leader of the Work package 5: Knowledge integration and capacity building, REGEA is responsible for the development of the training material contents used on the project level, aiming to encourage an increased market engagement in green finance in financial institutions, EES providers, managing authorities of structural funds, public bodies and facilitators.
Besides working on the training material content, REGEA will endeavour to initialise pilot refinancing and guarantee schemes in Croatia alongside facilitating the uptake of refinancing instruments. REGEA will also work on establishing national strategic partnerships and contributing to the dissemination of project results on national and EU level.