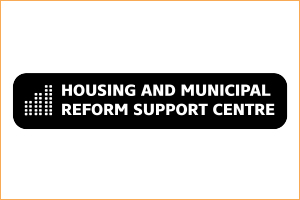 HOUSING AND MUNICIPAL REFORM SUPPORT CENTRE (NGO HMRSC)
Non-Governmental Organisation 
The International Non-Governmental Organisation "Housing and Municipal Reform Support Centre" (NGO HMRSC) is a local non-profit, non-governmental organisation in Ukraine.
The organisation's mission is to render assistance to individuals and communities, legal entities, central and local authorities in setting societal relations in the housing and municipal economy in order to create comfortable and safe living conditions.
HMRSC plays an active role in promoting reforms in Ukraine and ensuring public awareness and participation. Their work focuses on a broad range of issues to make reforms sustainable and to improve resource management and the overall livelihood of Ukrainian citizens.
The role of NGO HMRSC in the REFINE project is to research local financial services for ESCO (Energy Service Company) refinancing and to disseminate information on best practices at a European level.