We're delighted to bring you our first newsletter!
This first edition will introduce you to the project, outline the work that has been happening since our launch last year and highlight some of the project's key research findings and publications.
REFINE is a H2020 EU-funded project that aims to improve the supply of sufficient and attractive financing sources for energy efficiency investments and mainstream refinancing instruments for future energy efficiency projects across Europe. Within this scope, it seeks to create new business opportunities for financial institutions by establishing well-structured refinancing schemes for Energy Efficiency Services (EES) practices.
REFINE partners have identified a large market potential for sustainable finance in the energy efficiency field that is just waiting for a smart way to be instrumentalized. Several case studies and a market assessment carried out earlier within the project have shown the advantages brought by refinancing schemes. Over time, REFINE will cooperate with key stakeholders including financial institutions, EES providers, market facilitators and guarantee funds, using their knowledge and expertise to support anyone who is interested in growing within this business area.
We encourage you to share this newsletter with colleagues who might be interested, new subscriptions can be made through our website.
To keep up to date with all things REFINE, follow our Twitter: @REFINE_Project & LinkedIn
Kind regards,
The REFINE Team

Earlier in the REFINE project, partners conducted an in-depth case study and market assessment report on the use of refinancing methods and service markets in 10 European countries. Read on for some of the key findings. Full results can be viewed in the following list of Publications.
1. The Challenge & Solution
Difficulties in accessing finance, high transaction costs and the lack of standardised contractual arrangements are among some of the challenges currently facing the financing of energy efficiency investments.
Refinancing as an effective solution sees the EES provider sell while a refinancing institution acquires receivables to be paid by an EES client. If well established, the full technical risk – including the risk related to the actual generation of cash-flow through energy savings – remains with the EES provider, whereas the refinancing institution takes over the credit risk at the side of the client.

2. Further Business Opportunities for Financial Institutions
The implementation of a refinancing model provides many business opportunities for financial institutions including:
An extension of their green finance portfolio 
Become part of a promising and future-oriented market of energy efficiency services with large untapped investment potential
Reduced credit risk with the potential of further deductions by public guarantee funds
Becoming an early adopter of a new and effective refinancing model as the current competitive level in this area is still very low
Within this view, financial institutions could benefit greatly from the outputs of REFINE including access to standardised contract templates, a financial rating scheme and conceptual templates for refinancing schemes 
3. Refinancing Market Potential
Project partners identified and rated the potential for an established and robust refinancing market in the following European countries.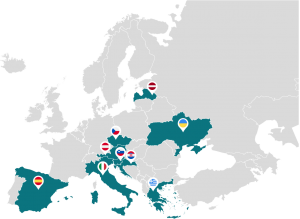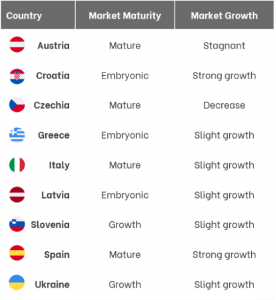 Case Studies on Existing Refinancing Instruments for Energy Efficiency Services
This in-depth report outlines a thorough analysis of best practices in refinancing instruments for energy efficiency service (EES) in four REFINE project partner countries: Austria, the Czech Republic, Belgium and Latvia. The case studies are a showcase for different refinancing instrument concepts which are suitable for other EU countries as well. A structured description of each case study provides uniformity and comparability of the refinancing schemes.
Refinancing Market Assessment Report
This report analyses the status of the national refinancing service markets in nine Austria, Spain, Italy, Slovenia, Croatia, Greece, Czech Republic, Latvia and Ukraine. Legal and organisational framework conditions for admissibility of refinancing instruments for EES in each country have been researched through different methods (literature review, analysis of case studies and stakeholder interviews). The report shows large differences across Europe: Whereas in some countries refinancing schemes have become a standard for the EES business, in other countries, they are not applied at all.
Article – Sale of Receivables in Czech Republic
The sale of receivables is the most common method of financing Energy Performance Contracting (EPC) projects in the Czech Republic, which makes it different from other EU countries. This method has been used to fund most public sector EPC projects completed since 2005, although it has been used only rarely in the private sector. This article provides an overview of the refinancing scheme for energy efficiency services projects using its practical function in the Czech market as a key example.
Market Growth Models for Energy Efficiency Financing
Limited access to financial resources represents a serious restriction for the market growth of EE markets. Energy efficiency service (EES) providers often must include financing into their service packages while respecting their own credit limits. For financial institutions (FIs), EE investments are cumbersome and cash flow is generated from cost savings instead of sales on the market. This paper uses  European-wide market assessment and case study analysis to explain how refinancing models contribute to the growth of EE financing.
Refinancing of Energy Efficiency Services (e7)
'An underrated business opportunity related to green finance' – There exists a general consensus among experts that large potentials of cost-efficient energy efficiency (EE) investment are currently untapped. Furthermore, these potentials are steadily expanding due to technological innovation. This succinct analysis outlines the basic challenges in financing energy efficiency investments and introduces the 'refinancing' concept as a solution that offers a business opportunity for Financial Institutions which are searching for promising green finance investment.
Our website and social channels provide regular updates on new publications, upcoming events and general industry discussion. Check out this snapshot and click through to engage with the project online.
Recap: Covenant of Mayors Investment Forum – Energy Efficiency Finance Market Place
Missed the EU Covenant of Mayors Investment Forum? Check out the LIFE programme's article for the event's key takeaways, presentations and session recordings. This year's webinar was attended by over 500 people representing local authorities, the finance sector and other key European stakeholders. With over 35 project sessions divided into five thematic strands, these looked at a multitude of innovative solutions from across Europe to boost large-scale investment in and financing for sustainable energy and climate adaptation, most of which have received funding under Horizon 2020. Presentations and session recordings are available at the following link. Learn More…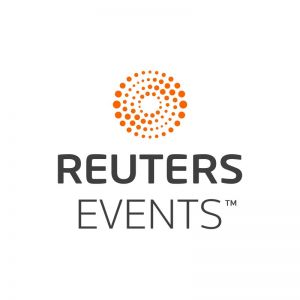 Reuters Events: Renewable Finance & Investment 2021
The Reuters Events: Renewable Finance & Investment Digital Conference and Exhibition will take place from the 27th – 29th September. It will bring together asset owners, institutional investors, policymakers, corporate buyers and developers to bridge the gap between capital and infrastructure. Providing key insights into market power prices and macro-level trends, subsidy-free financing models, unlocking new markets, and navigating risk to ensure asset bankability. Register here…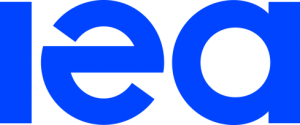 IEA World Energy Investment 2021: Flagship Report
This year's edition of the World Energy Investment report presents the latest data and analysis of how energy investment flows are recovering from the shock of the Covid-19 pandemic, including full-year estimates of the outlook for 2021. It examines how investors are assessing risks and opportunities across all areas of fuel and electricity supply, efficiency and research and development, against a backdrop of a recovery in global energy demand as well as strengthened pledges from governments and the private sector to address climate change. Read it here…